Age-Appropriate Reads: 0-4
Our lists of age-appropriate reads are intended to be a starting point for parents and children, not a definitive list.  Stating that certain books "should" be read by kids of a certain age can be harmful to developing literacy skills; reading abilities and habits develop at different paces and forcing children to read books that are either above or below their natural reading levels can cause frustration and boredom, making reading no longer enjoyable and therefore more difficult.
The books we have recommended on our age-appropriate lists are the result of years of training and education in child development, early childhood education, and library and information science.  The titles we chose may not be the classics or well-known titles people would expect to be on the list; we also take very seriously the ability of a book to appeal to the child reader.
You may also notice that the lists cover overlapping age ranges, which we feel is essential to prevent children from being pegged into labeled categories.  Additionally, we have added short comments about what children may be experiencing during those ages and how those things may affect their reading habits.  We hope you find these lists useful to you and your young reader(s).
Babies
Babies love contrast - black and white, bright colors, and distinct shapes.  They will usually respond very well to pictures of large faces, particularly other babies.
Baby! Baby! by Vicky Ceelen

Black? White! Day? Night!: A Book of Opposites by Laura Vaccaro Seeger
Blue Goose by Nancy Tafuri
Brown Bear, Brown Bear, What Do You See? by Bill Martin
Goodnight Moon by Margaret Wise Brown

Hello, Animals! by Smriti Prasadam
My First Signs by Annie Kubler
The Very Hungry Caterpillar by Eric Carle
Where Is Baby's Belly Button? by Karen Katz
Where Is the Green Sheep? by Mem Fox
Toddlers 1-3
Look for short stories with easy rhyming text to help sound and letter recognition.
Bears on Chairs by Shirley Parenteau

Chicka Chicka Boom Boom by Bill Martin
Chicky Chicky Chook Chook by Cathy MacLennan
Clip-Clop by Nicola Smee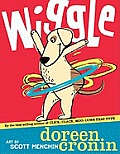 The Deep Blue Sea: A Book of Colors by Audrey Wood
Green Eggs and Ham by Dr. Seuss
Ten on the Sled by Kim Norman
Up, Down, and Around by Katherine Ayres
What Will Fat Cat Sit on? by Jan Thomas
Wiggle by Doreen Cronin
Toddlers 2-4
If s/he can sit still long enough your child is now ready to follow along to simple storylines.  It's now becoming about the story, not just the book itself.
Bear Wants More by Karma Wilson

The Cat in the Hat by Dr. Seuss
Down by the Cool of the Pool by Tony Mitton
Farmer Duck by Martin Waddell
Flora's Surprise by Debi Gliori

Guess How Much I Love You by Sam McBratney
Kitten's First Full Moon by Kevin Henkes
Mouse Paint by Ellen Stoll Walsh
One by Katherine Otoshi
We're Going on a Bear Hunt by Michael Rosen