About the Library
The Davenport Public Library is the municipal library for the City of Davenport, Iowa, serving a population of 99,685 residents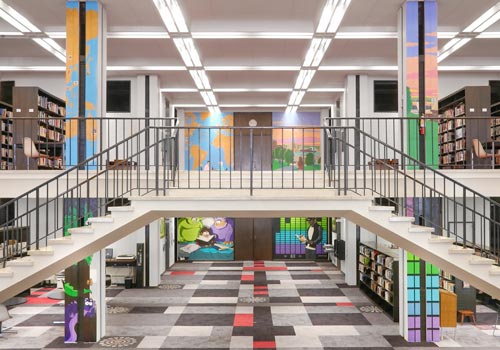 We provide services through three facilities: our downtown Main Street Library, the Fairmount Street Branch on the west side of town, and the Eastern Avenue Branch in northeast Davenport. Our downtown location hosts the Richardson-Sloane Special Collections Center which focuses on local history and genealogy. Patrons can access our library catalog, website, including numerous database resources, remotely 24-hours a day. Wireless internet access and public computers are available at each of our locations. Meeting rooms are available to non-profit organizations at each facility. Homebound and Outreach services bring library service directly organizations and individuals.
The Davenport Public Library works collaboratively with other Iowa libraries in the RiverShare Consortium to share a public catalog. By offering reciprocal borrowing privileges to one another, our patrons receive the benefit of having access to the resources of all nine member libraries.
---
Our Mission
Connect a diverse community to resources that inform, enrich, educate, and entertain.
Our Vision
Provide vibrant and essential library services for our community.