Library Board And Policies
About
The Library Board of Trustees is the governing and policy-setting body of a public library, in accordance with the Code of Iowa, Chapter 392, Section 392.5.
Davenport Public Library's Board of Trustees is composed of nine citizens of the community, appointed by the Mayor of the City of Davenport. They serve 6-year terms and may be reappointed.The Board meets monthly and all meetings are open to the public.
Trustees
Steve Imming, President
Tom Engelmann, Vice President
Sylvia Roba, Secretary
Matt Casillas
Craig Cooper
Judie Lance
Amanda Motto
Naghme Motto
Malavika Shrikhande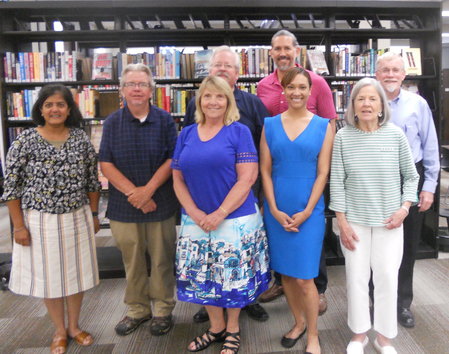 Trustees L-R: Malavika Shrikhande, Craig Cooper, Sylvia Roba, Tom Engelmann, Matt Casillas, Amanda Motto, Judie Lance & Steve Imming. (Not pictured: Naghme Motto)
Bylaws
Bylaws for the Davenport Free Public Library can be found here.
Additional Information
Finance: Tom Engelmann (Chair), Steve Imming
Personnel: Matt Casillas & Amanda Motto (Co-chairs), Craig Cooper
Advocacy (ad hoc): Malavika Shrikhande (Chair), Judie Lance, Amanda Motto
Call: The Library Business Office: (563) 326-7841
Write: In care of the Davenport Public Library, 321 Main Street, Davenport, IA 52801-1490
Email: The Board Secretary